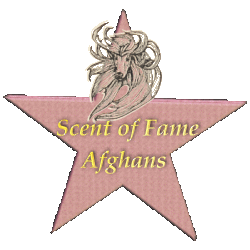 Scent-of-Fame Afghan Hounds

CH Deloubelle Taza Icing on t'cake
"LEA"
Born: 28.02.2004

PEDIGREE

Breeder: Louise & Andre Ouimet Lavigne , Deloubelle Kennel/Canada
Co-Breeder: Beth Collins, TAZA Afghans/USA




We met Lea the first time on the National 2004 in St. Cloud/USA, when she was about 9 month.

We fell in love with this litter and special with Lea, but she wasn't for sale at this time!

Now, 1 1/2 years later she is here, ready to share her live with us and our gang.
Lea came to us in February 2006.


Lea is a "Justice", CH Gazon The Truth Be Told, daughter and a halfsister to our puppies....and she is a granddaughter of the beautiful and wellknown "Sherman", CH Casbar Mezra Colour Me bad, and a greatgranddaughter of "Cody", CH Pahlavi Rhythm of The Night!!

Lea is funny and elegant and playful...one word, she is delightful and we love her!


The whole litter at the National 2004 in St. Cloud




...and the girls in the showring....

...and 2008...Lea and her kids...
Scent-of-Fame Afghan Hounds - Copyright (c) 2014